The Hotel Tre Ville
The hotel is perfect for a holiday or a business trip
The Hotel and its history
The Antica Hostaria Tre Ville Restaurant was established 26 years ago after renovating an old post office at the gates of the city and run by the Dall'Argine family, restaurateurs for 40 years. In the year 2000, thanks to the tireless efforts of Mr. Ferdinando Dall'Argine who was the famous host of Trattoria del Cacciatore di Frassinara, opened the Hotel with other members. Managed for 17 years now by his granddaughter, Sara Dall'Argine, and by the historical staff, it has become a small family.
Finely furnished rooms and suitable to any needs
Parma's Hotel Tre Ville has 34 cozy well-furnished rooms, many of which overlook the garden. Colourful, functional and quiet, our rooms are equipped with all the comforts to make your stay even more enjoyable, including:
Automatic check-in with code
Air conditioning with internal control
Free Wi-Fi
Minibar
Satellite TV and free channels
Telephone
Bathroom with shower and hair dryer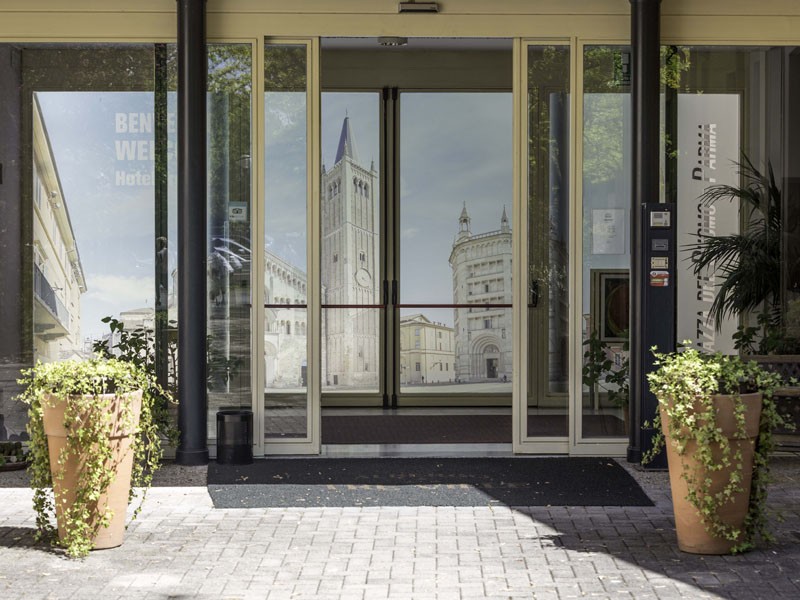 Hotel Tre Ville in Parma is designed according to efficient and functional criteria to offer its guests a pleasant business or relaxing stay. Our hotel is also suitable for hosting tourist groups and private groups with customised services able to meet the specific needs of the guests.
If requested, groups may dine directly at the Hotel.
The hotel has rooms with carpeted, ceramic or wood floors and free Wi-Fi. There are also two rooms specifically equipped for disabled guests.
Buffet breakfast and parking are included in the price and you can also order room service.
Hotel Tre Ville is easy to reach: we are 4 km away from the centre of Parma and 8 minutes away by car from the A1 highway Autostrada del Sole.
We also have a large covered parking space for our guests.
There is a 130-seat meeting room arranged theatre style with technical equipment and coffee break service.
The room may also be used for other purposes such as massages, show room, presentations, birthday and graduation parties, plays and much more.
We have a courteous and efficient multilingual staff.
A green oasis of relaxation
Hotel Tre Ville is located between the highway and the centre of Parma. It has a large and peaceful internal park decorated with flowers and centuries-old trees. It is a real and true green oasis where you can enjoy the shade of the poplars and chestnut trees, precious moments of relaxation while sipping the cocktails prepared for you by our bar.
Our park offers you tranquillity after a day's work along with a drink or simply relax by walking amongst the hazelnut and centuries-old poplar trees. Treat yourself to a little escape from the stress of daily life and surround yourself with the peacefulness of our beautiful garden!